v/ Nikolai Møbius, Nikolas Padfield, Morten Brandrup, Mads H. Jørgensen, Steffen Thorlund, John Gallagher, Adrian, Torben Kjærgård, Sisse Siggaard Jensen, Dixi Louise Strand.
The first prototype of the Experience Cylinder was developed in close collaboration with the Viking museum in Roskilde and the content was a large corpus of data from the expedition to and fro Dublin with the large viking ship Havhingsten. The next step is to bring further the vision of developing a platform architecture – a second prototype – to open to multiple projects, semiotic resources, narratives etc to be implemented in the immersive 360 degrees environment. To serve these purposes improvements are made with regard to: the quality of tracking, simultaneous tracking of more than one user, further development of behaviours to guide the interplay between user agency, interface and the code of the basic architecture, user interaction with different data layers, transfer from the Cylinder to mobile tablets and improvement of visual quality and the jointing of the 360 degrees visualization.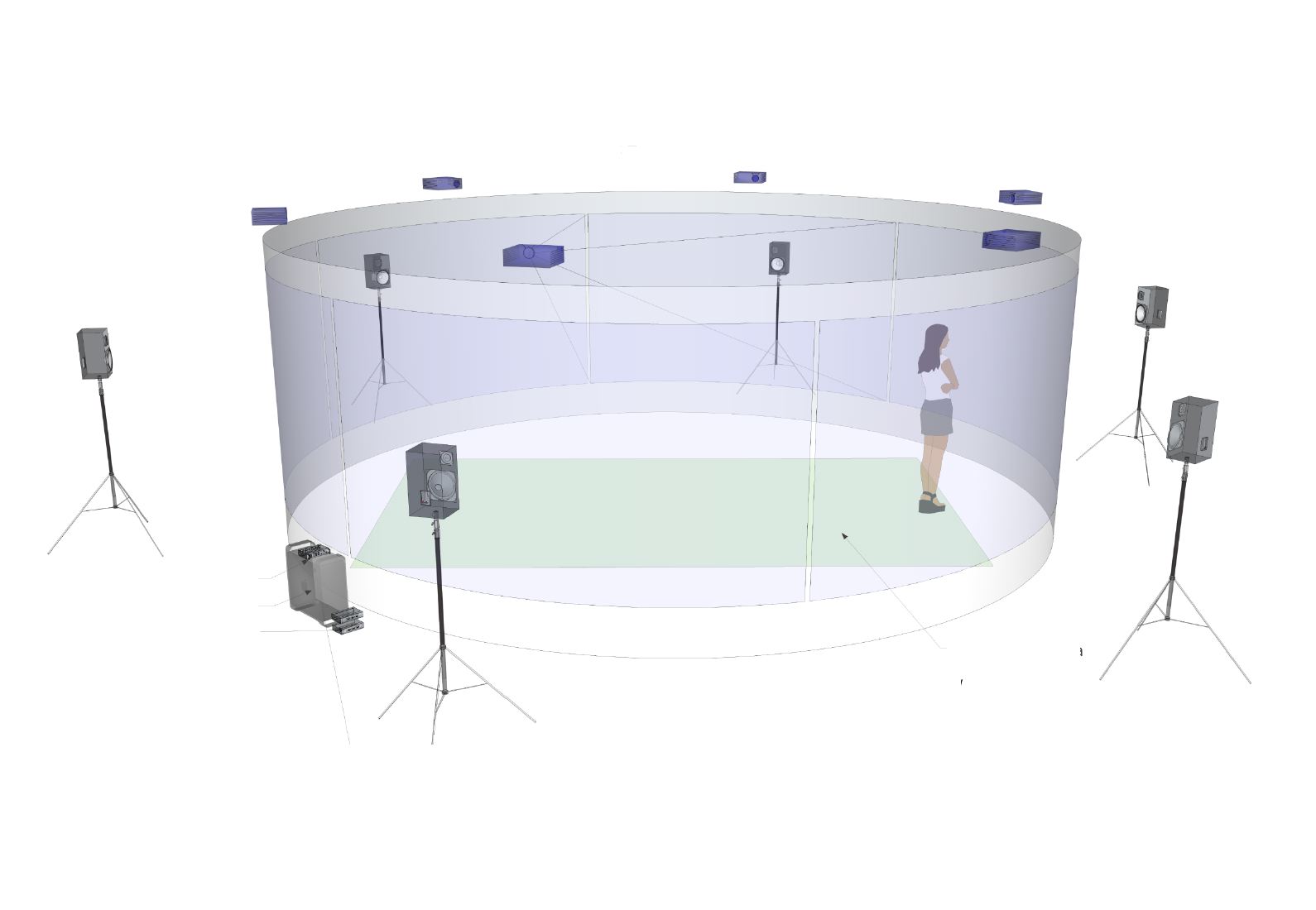 Som udløber af Havhingstprojektet og samarbejdet med Vikingeskibsmuseet er oplevelsescylinderen nu under udvikling til at blive en åben generisk arkitektur, der er en avanceret men brugervenlig teknologisk tværmedial platform, som kan anvendes inden for mange forskellige områder og med mange forskellige formål.
Det indebærer blandt andet en forbedring af flere tekniske og funktionsmæssige aspekter af den eksisterende prototype, fx:
Tracking'ens dækningsområde af bevægelser i cylinderen
Antal personer der kan trackes samtidig
Udvikling af behaviours
Brugernes interaktion med de forskellige lag af lagret datamateriale
Brugernes mulighed for at overføre datamateriale til egne medier fx mobilltelefon
Forbedring af det visuelle materiales billedkvalitet og sammenføjning på 360 graders skærmen
Der er også brug for en mere intuitiv brugergrænseflade med et sprog, så andre end programmører kan bruge og udnytte oplevelsescylinderens potentiale for immersive oplevelser og formidling af mange lag af historisk og nutidig viden via lyd, fotos, video og 3D visualiseringer. Vi arbejder på at den forbedrede udgave af den generiske platform er færdig ved årsskiftet 2012/13.
Samarbejdspartnere
Udviklingsvirksomheden GeekPhysical, kunstnerkollektivet Illutron og forskningslaboratoriet LMSI-CRNS, Frankrig.