Would you like to understand and develop experiences for learning, health, sustainability, fun and well-being? Would you like to put people first with human-centred design?
Experience Lab engages in various forms of collaboration. Examples are research projects, design projects, teaching and consultancy. We can do masterclasses or intense and inspirational workshops where we explore how to design for experience in a wide range of contexts and situations. Experience Lab collaborates with academic and non-academic partners. We offer transdisciplinary state-of-the-art knowledge and methodologies in designing for experience. We are positively interested in further developing our understanding of experience design. Collaboration is a crucial way of achieving this.
If you are interested in exploring possibilities, please contact us to talk about how we might collaborate.
Collaboration is a core value of Experience Lab
We welcome partners from across disciplines and from sectors in society outside research and universities. The initiative to start new projects can come from researchers at the university and the departmental level or from other universities and research institutions. In some cases advanced level student projects can also initiate collaboration with ExLab as in the 3D game student project. Partners from outside research and universities are certainly welcome from business, cultural institutions, education or media industries to mention only some. Also, we are about to build up an international network that will allow us to start projects with international partners.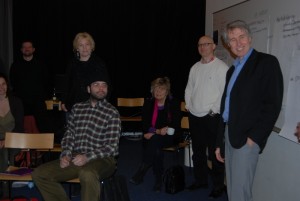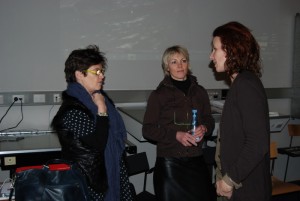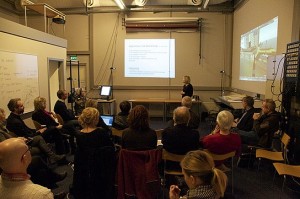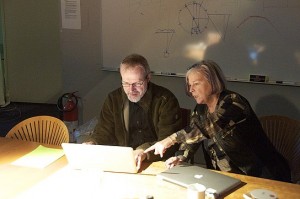 Forskellige aktører kan starte projekter i Experience Lab. Nogle gange kan det være forskere, der har et ønske om at afprøve en ny teknologi. Andre gange kan initiativet komme udefra, fx en kulturinstitution eller virksomhed der har behov for at få belyst en ny formidlings- eller oplevelsesform. Ligeledes kan internationale kontakter i forskningsverdenen give anledning til projekter.
En bred vifte af forskellige forskningstemaer og projekter kan foregå i Experience Lab. Det kan fx være udvikling af spil, hvor virtuelle og fysiske miljøer spiller sammen, så spillet foregår ude i byen og ikke foran computeren. Det kan også være projekter indenfor temaerne bæredygtighed eller motion som oplevelsesform. Man kan også forestille sig projekter indenfor avanceret menneske-maskineinteraktion, hvor face-tracking kan give mulighed for at fortolke stemninger fra ansigter eller forskning i high-fidelity multi-sensoriske virtuelle miljøer, hvor rekonstruktioner af fx landskaber kan kombineres med sansepåvirkninger som lugt, hørelse, syn, følelse af vind, temperatur og fugtighed og dermed skabe en følelse af at være til stede i landskabet.
Kontakt os for at høre mere om samarbejdsmulighederne.
Finansiering
Partnerskaber kan være ganske forskelligt sammensat. I nogle tilfælde kan der være tale om en finansiering via forskningsråd med de samarbejdsrelationer, dette fører med sig. I andre tilfælde kan samarbejde mellem forskere og private virksomheder være finansieringskilder til eksperimenter, eller midlerne kan komme fra fonde og sponsorer.
Immaterielle rettigheder
Immaterielle rettigheder eller "intellectual property rights" (IPR) er en samlebetegnelse for rettigheder til opfindelser, design, edb-programmer, litteratur m.m.. Disse rettigheder er fastlagt i en række love, såsom forskerpatentloven, ophavsretsloven, designloven og forskernes publiceringsret. I projekter, der er baseret på samarbejde mellem flere offentlige institutioner og/eller private virksomheder, frembringes ny viden i fællesskab mellem flere parter. Når flere parter, offentlige institutioner og private virksomheder samarbejder om forskning, er det vigtigt for alle parter, at der på forhånd indgås meget klare aftaler om vilkår for samarbejdet (hvilke betingelser og forpligtelser parterne påtager sig), projektledelse, økonomi, publicering og offentliggørelse samt retten til den viden og eventuelle opfindelser, der skabes under samarbejdet. Experience Lab anvender i overensstemmelse med retningslinjerne for kontrakt- og aftaleindgåelse på RUC en række modelkontrakter. Experience Lab vil bistå i udformningen af samarbejdsaftalerne/kontrakterne til de enkelte projekter i samarbejde med fællesadministrationens kontraktkyndige jurister.