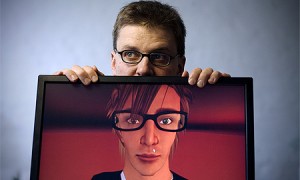 Welcome to the cross-media seminar
Program:
Lokale: Biografen, CBIT bygning 42, Roskilde Universitet
Seminaret diskuterede potentialet i cross-media produktioner, herunder anvendelse af virtuelle verdener som filmværksteder i dansk cross-media produktion. Samtidigt undersøges betydningen af interaktioner og relationer i cyberspace (inklusiv virtuelle verdener).
Adjunkt Lisbeth Frølunde introducerede cross-media som begreb og rejste spørgsmål om konsekvenserne for producenter af cross-media, samt for publikum eller brugere. Med flere cases præsenteredes mangfoldigheden af medieplatforme i produktion og distribution, og de hybride genrer og virkemidler. Lisbeth anvendte dialogisk teori til at forstå, hvordan nye medier åbner for en mangfoldighed af nye slags fortællinger.
Med udgangspunkt i filmen "Min Avatar og Mig" gav Lisbeth et eksempel på hvordan en komedie kan fortælle om relationer i cyberspace, og hvordan en blanding af live optagelser og animation virker på film og publikum.
Om filmen: www.minavatarogmig.com oghttp://myavatarandme.com/
Paneldeltagere filminstruktører Bente Milton og Mikkel Stolt præsenterede deres intentioner og erfaringer med filmproduktionen, samt planer for videreførelse af filmens tema i cross-media produktioner mm. Andre paneldeltagere, der er aktive i en virtuel verden, heraf nogle fra filmholdet (fotograf Rob Gould og avatar skuespillere), deltog i en simulcast, dvs begivenhederne i cyberspace blev vist samtidig og i dialog med live panellet og publikum på RUC. Panel og diskussion var på engelsk.
Seminaret var hovedsagligt på engelsk, filmen overvejende på dansk og med engelske undertekster.
Arrangementet var en aktivitet under følgende forskningsnetværk:
Experience Lab, CBIT, RUC og Nordic Virtual Worlds Network http://nordicworlds.net/, støttet af Nordisk Innovationscenter.
Sisse 😉